Bozeman sucks. It's horrible. It was a terrible place to grow up and I don't know why anyone would ever want to live there.
I'm kidding, of course. Bozeman is an incredible town and I'm so thankful to have grown up in such a wonderful place.
What does suck, though, is that everyone else is discovering how awesome Bozeman is. It keeps making national lists of "most livable cities" and other such things, and as a result it's growing so fast. And the worst part is that people come to Bozeman because they love its small-town feel, but they bring their big city attitudes with them.
Us Bozeman natives are not amused.
(And for all the Big Bang Theory fans out there… despite what Sheldon may say, we do not call ourselves Bozites)
So I'm going to start telling everyone that Bozeman is a terrible place. Maybe it will deter them from visiting or moving there.
In the summer of 2015, Pat visited Bozeman the first time, meaning I got to be a tourist in my own back yard, which is always kind of fun. So allow me to recap our adventures and provide some examples of how dull and ugly and awful Bozeman is.
1. Museum of the Rockies
Arguably one of the best museums in the area, the Museum of the Rockies is home to one of the most extensive and complete dinosaur collections in the world! The head paleontologist and curator was actually a consultant for the Jurassic Park movies; he's very well known in his field. But there's so much more than just dinosaurs. There are permanent exhibits on geology, Native Americans, Yellowstone National Park, and Montana history, as well as a fairly large planetarium. The Museum also brings in some impressive traveling exhibits. Over the years, we've learned about King Tut, chocolate, and Pompeii, just to name a few!
2. Downtown
Believe it or not, I don't have any of my own photos of downtown Bozeman because I don't actually spend much time there. There's one coffee shop – Wild Joes – that I frequented when I still lived at home, but that's about it. The downtown area is largely geared towards tourists, with lots of gift shops, but there are also many restaurants and locally-owned boutiques. Quite a bit of money has been put into sprucing up the downtown area in recent years and they've done a very nice job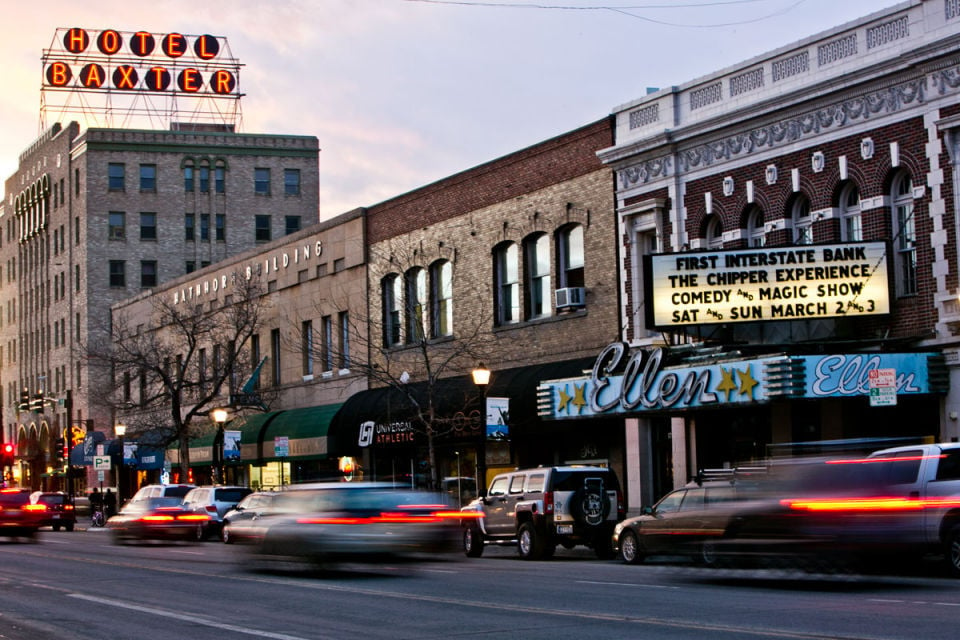 3. Hyalite Canyon
I've written a few posts about this already (read them here), but I can't talk about Bozeman without mentioning the fact that the entrance to Hyalite Canyon is just 15 minutes away
4. The M
I've written about this previously as well – the giant Montana State University "M" on the mountainside east of town. It's one of the most popular and iconic hikes in the area and provides a spectacular view of the Gallatin Valley
5. Bridger Mountains
The "M" is located on the southern slope of Mount Baldy, one of the most massive mountains in this fairly massive sub-range of the Rocky Mountains. The Bridgers form the eastern edge of the Gallatin Valley and provide many recreational opportunities. We took Pat for a drive around to the back side of the range for some up-close views of these beautiful mountains. (Photos of my previous hikes up into the Bridgers can be seen here and here)
6. Beer
As with most areas these days, the craft beer scene has really heated up in Bozeman in recent years. Since I don't live there anymore, I'm way out of the loop on the current breweries. But when Pat and I visited, we treated ourselves to some post-hike beer samplers, buffalo pepperoni pizza, and a view at Bridger Brewing
7. Sunsets
My mom lives on the western edge of town, with a largely uninterrupted view of the mountains, meaning we can watch the sunset paint streaks of color across the wide-open Montana skies every single night. I don't think I need any words for this one. I'll let the photos do the talking
So you agree with me, right? Bozeman looks pretty blah.
Definitely not a place worth visiting.